You're never too old to embrace the joy of an advent calendar. Knowing I might not receive one, I crafted my own, a gift to my inner child, from me to me.
This advent calendar has something special about celebrating Christmas here in Tyrol and on the other end of the world, in Arizona. Can you guess whose home inspired this?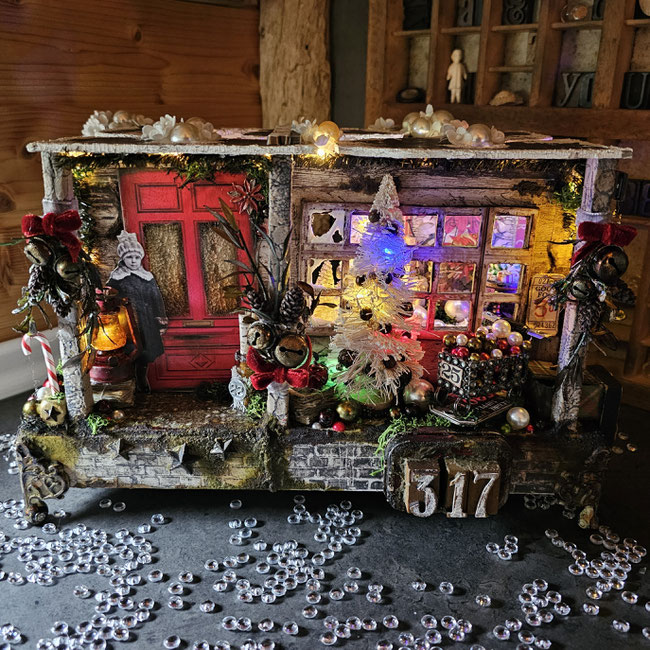 Sure, it's pretty easy to understand, right? This side of my advent calendar was inspired by how Tim and Mario decorate their home for Christmas in Arizona. I watched the Christmas decor tour video where he showed their decorations, and I wanted to make some of the same things. You can watch the video at the end of this blog post and see how mine compares!
Christmas in Arizona is very different from Christmas here in Tyrol, Austria. That's why my project has two sides. On the other side, I created a campsite, which is where I live, and Christmas in the snowy landscape around my home. It's a mix of two different kinds of holiday celebrations.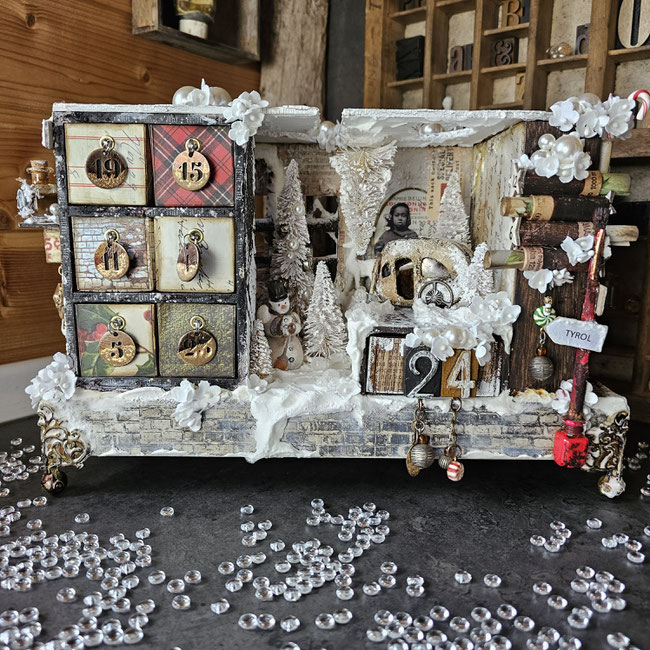 This was so much fun to create!
Now, let's delve into some details. The construction of this is absolutely straightforward. I've used a vignette tray for the base, a vignette box and a vignette card file (without the handle) for the shelves, and the rest of the construction is made from thick cardboard. 
In the photo below, the vignette tray is still missing, but I wanted to show you how I put it together.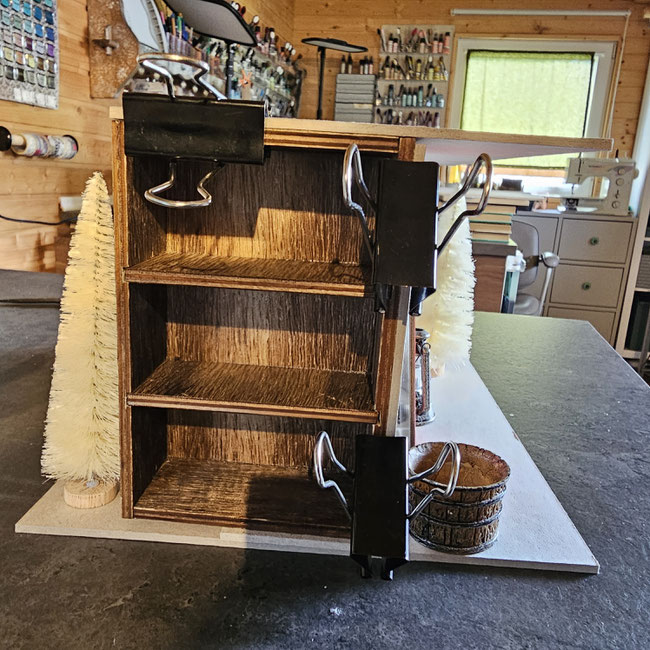 During this initial phase when I was thinking about how to put the different parts together to fit both scenes - Arizona and Tyrol - and also to make sure it's stable, I also placed various other pieces temporarily to estimate the size correctly. This helps to have a better idea of how the whole thing will look in the end.
And I also had the area in between, which means on the right and left of the structure. That led me to the idea of creating a second window through which you can also see into Tim's & Mario's living room. You can see that room as well when you look through the window on the front and when you peek through the roof.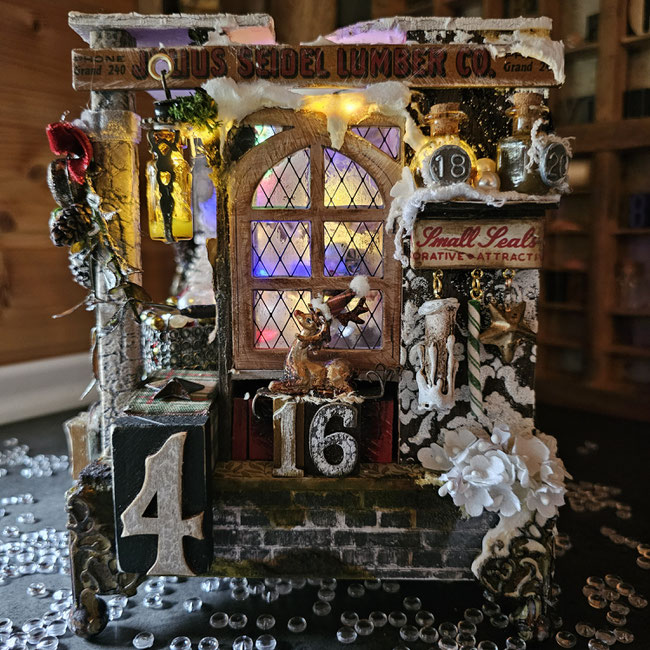 Behind the windows, I've set up a cozy room with a plate full of delicious candy, some baubles to create a festive atmosphere, a bottle of hot chocolate, and a drippy candle to add a romantic touch. The 'wallpaper' is crafted using the lovely poinsettia image, along with crackle paint and crayons.
By the way... the plate for the candy I made out of a candle stand and a vintage button, painted with some distress paint and aged with distress grit paste crypt & alcohol ink. 


Instead of a typical closed roof, I crafted a giant "25" atop my project using sturdy cardboard, coated it with an idea-ology backdrop, and added a distressed look with some crackle paste. This design allows you to peek inside and observe various sections of the living room and the campsite. Another benefit of this unique roof is that it allows the light to filter through beautifully.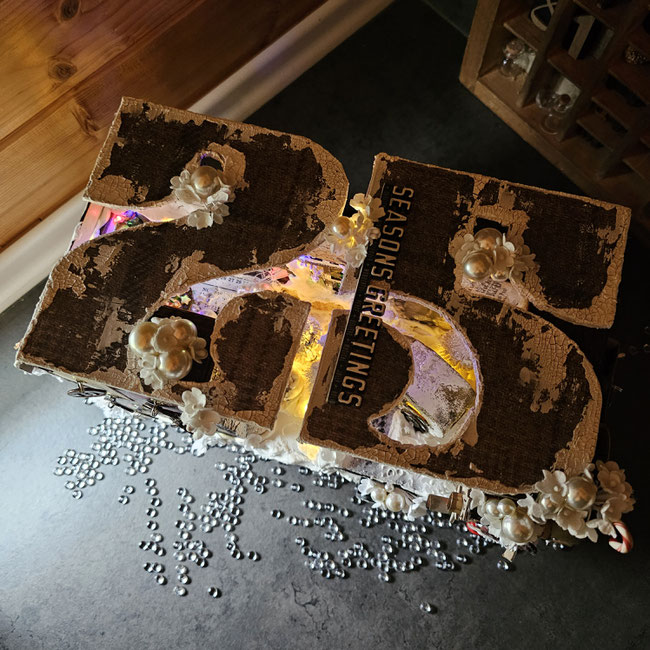 And then there's this little metal tin with the numbers 3 and 17. This tin holds a delightful surprise – we don't want to forget Santa Claus and his reindeer!
When you open it, you'll find a plate with cookies and a glass of milk for Santa, along with some carrots for his reindeer. Additionally, there's a small metal piece that reads "wish," symbolizing the Christmas wishlist sent as a letter to Santa.
The plate is actually a vintage button. The cookies are crafted from distress grit paste crypt and painted with distress paint. The carrots are made using distress texture paste opaque, painted with distress paint, added some pine twine for that green touch.  The glass is repurposed from a waterbrush cap; I simply cut it to the right height and filled it with distress texture paste opaque, smearing it to resemble Santa having already enjoyed the milk.
If I were to describe every detail of this project, I could probably write a whole book, lol. However, I prefer to let some pictures do the talking.
Furthermore, there will be videos about this project on my YouTube channel where I'll explain everything in great detail. Once those videos are available, I'll provide links here for you.

Here are some photos I took during my process of creating this project...
... and here's the Christmas decor tour video on Tim's channel which was the inspiration for this project.
... and in the following videos you can see the advent calendar in detail. I talk about my thoughts and show you the single elements. Enjoy!