The distress Christmas collection by Ranger Ink & Tim Holtz is back and more colorful than ever! Learn more about this festive mix of products & get ready for the holiday making season!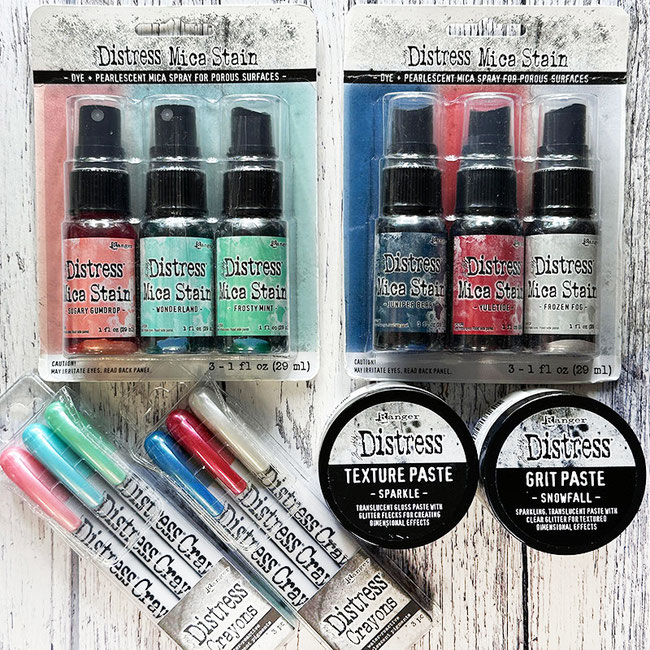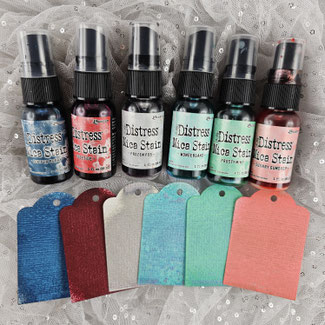 DISTRESS MICA STAIN: 
A SPRAYABLE ELIXIR OF VIBRANT DYES AND LUMINOUS PEARL
NEW COLORS:
- juniper berry
- yuletide
- frozen fog 
- wonderland
- frosty mint
- sugary gumdrop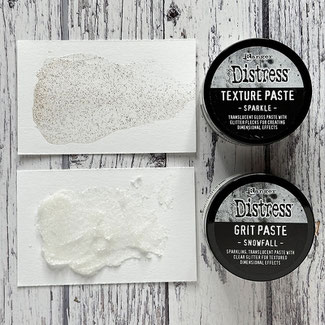 DISTRESS GRIT PASTE SNOWFALL: 
A SNOWY TEXTURE FOR A MAGICAL WINTER EFFECT
I love to use grit paste snowfall as is for icy effects on journal pages, cards, or other projects.
But did you know that you can also tint this paste? That makes it so versatile, and you can utilize this paste for whatever effect you want to achieve.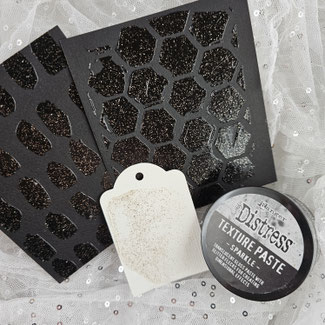 DISTRESS GRIT PASTE SPARKLE: 
A DIMENSIONAL GLOSS SHINE WITH SPARKLING GLITTER
This new paste is a bit camera-shy.
But in real life, it simply sparkles and shines beautifully!
Depending on the light, the tiny glittery particles look a bit different each time, creating a special and beautiful effect, not only on Christmas makes but on every project that needs this special bit of something.
Take a look at the following photos. I tried to photograph the paste on black and white paper from different angles so you can get a little sense of the magic.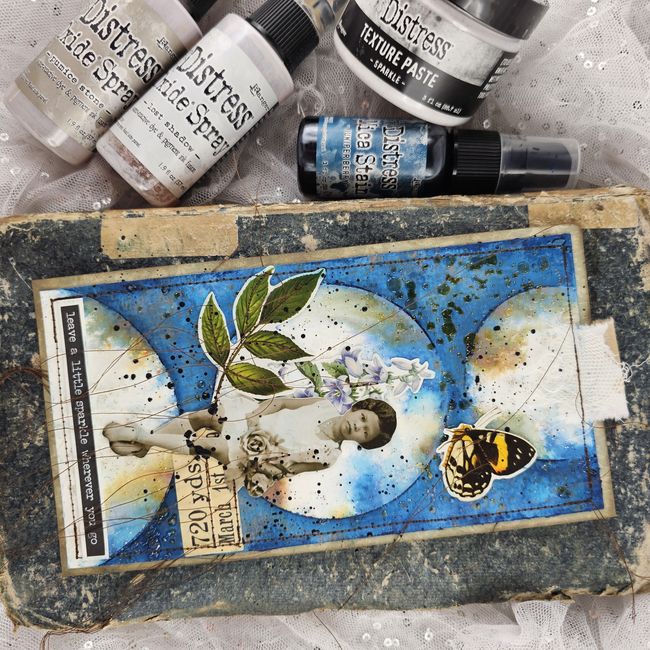 While watching the DISTRESS CHRISTMAS LIVE on Tim's channel I made this card using the moon masks a bit differently. After creating the circles with juniper berry mica stain, lost shadow & pumice stone oxide spray & a bit of crackling campfire oxide ink I defined them with uncharted mariner crayon. Instead of using the masks for the craters I took a stencil and applied the new distress texture paste SPARKLE through it. A few pieces of idea-ology.... done & happy.