Excited to share my makes for the Tim Holtz & Sizzix Christmas 2023 release! 
Let's talk about this envelope notebook!
You're welcome to draw inspiration from these ideas and mold them into your unique creations.
It's always such a special feeling to write a blog post like this one. Creating those makes for a live on Tim's channel is one thing. But meeting all of you in the chat and experiencing your and Tim's reactions to what I created... that's a whole other level of joy!
Thank you so much for your lovely comments, messages, and emails! You're simply the best community ever! A huge thank you also goes to Tim & Mario and we shoudn't forget Paula, who controls the chaos :)
This envelope notebook is not only fun to make, but creating it also provides a unique and special place for journaling, collecting treasures, and preserving special moments during the holiday season. It also makes for a thoughtful gift for someone special.
The base for this notebook is crafted from two envelopes and various other pocket-shaped items from my stash. Essentially, you can use whatever you have on hand, including CD sleeves, packages from guitar strings, vellum envelopes, and paper bags.
The fun part of this project is using what you can find—items that are just lying around, waiting to be upcycled.
In the following video, I'll demonstrate how to create the base for your envelope notebook, providing you with a step-by-step tutorial on assembling the individual pieces. I'll also show you how I covered the envelopes with some idea-ology backdrops to make them sturdier and add the first layer of visual interest.
Once you have your base, you can get as creative as you want! I wanted to achieve a truly grungy and brownish, dirty look for my envelope notebook, but you can make this in any color you desire, of course!
That being said... wouldn't it be cool if you had a whole collection of these notebooks in various colors and styles?! Oh, ideas are beginning to spin around in my head, lol.
So, let's decorate the pages!
When I create a junk journal, I love using every tiny piece I have laying around on my desk. I particularly enjoy repurposing leftovers, and that's precisely what I've primarily done for the page decorations in this notebook. I've utilized the negatives of the die cuts to craft collages, pockets, tags, and more.
Please feel free to draw inspiration from the following two videos in which I show & explain my process of decorating the notebook.  
As promised in the videos, here are some detailed photos of the notebook. Below the photos, you can find the die cuts and embossing folders I've used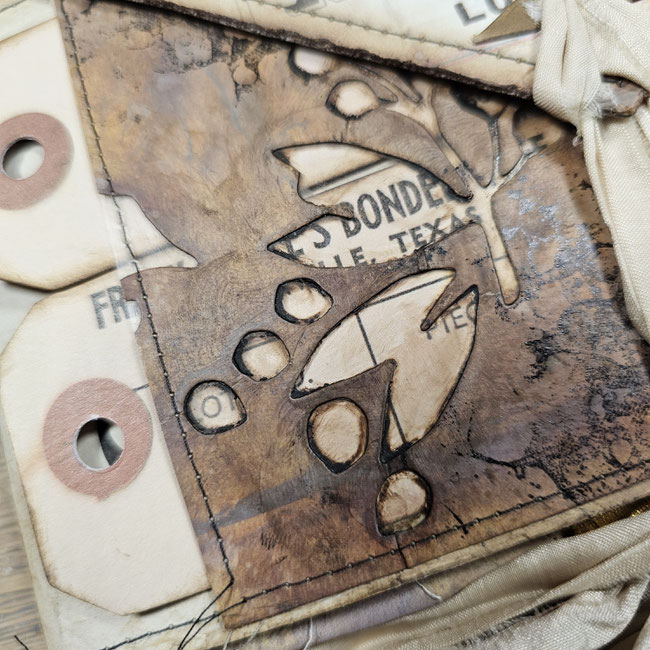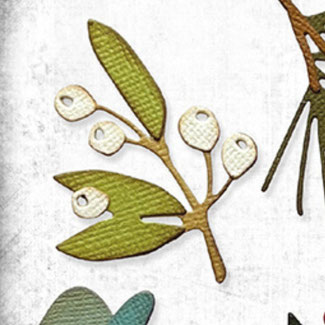 The pocket on the front of the envelope notebook is created using the negative cutout of this small plant from FESTIVE GATHERINGS.
It's amazing! Take a look at how the plant appears when assembled and compare that to the 'scrap' you obtain from cutting. It's such a different look, and you get two useful pieces from a single cut!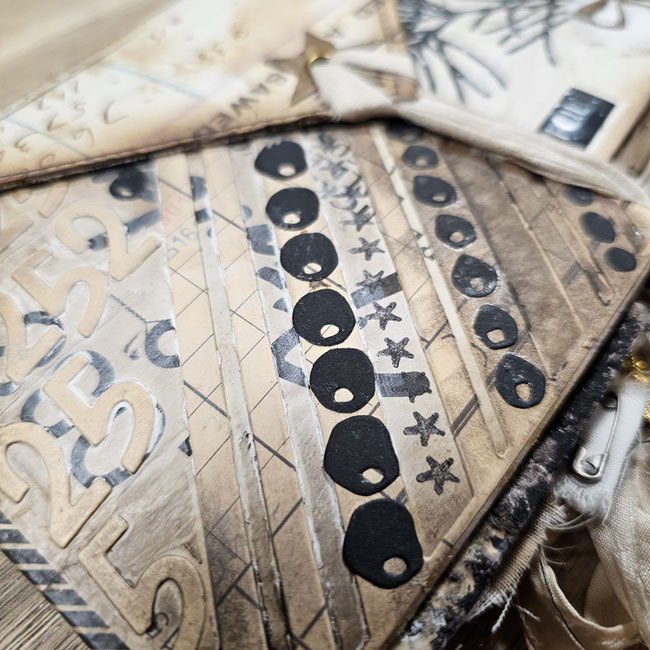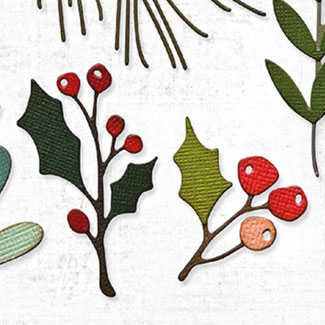 I've always struggled with mark making. That might sound odd, doesn't it?
It seems like such a simple technique - just take a paintbrush and black paint and make marks on a piece of paper.
However, no matter how many times I've tried it, my marks always looked like crap.
But those little berries from FESTIVE GATHERINGS have been a game-changer for me when it comes to mark making! Simply cut them from black paper, glue them down - mark making for dummies done :) 
The stripes on the picture above come from LAYERED STRIPES and the numbers come from SANTA GREETINGS.

Here, you can see some other areas of my journal where I used my 'mark making for dummies' method:
I absolutely love experimenting with the contrast between abstract designs and concrete scenes.
For this tag, I've used a combination of negative cutouts from FESTIVE GATHERINGS and positive pieces from TRIM A TREE for the background.
I've adhered them to a section of an Idea-ology backdrop and added the adorable little girl; she's an idea-ology paper doll.
As I prefer to have my paper dolls grounded rather than floating in the air, I've positioned the spot for the label sticker right under her feet.
The scene on the pocket which holds the tag was made with REINDEER SLEIGH, the star from TRIM A TREE and the twigs from FESTIVE GATHERINGS.

For the case you wanna watch Tim exploring this make during his live, here's the link to the replay on his channel: