Have you ever heard of "MOONDALA"? In this post I would like to introduce you to the idea of creating a mandala around a moon - a moondala! Let's check it out!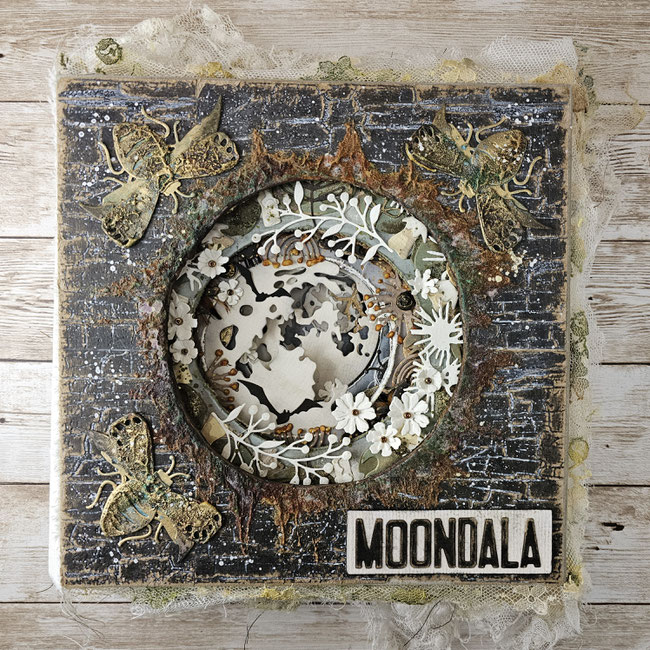 When I first saw the "MOONLIGHT" set by Tim Holtz & Sizzix, I immediately fell in love. The moon in this set looks so beautiful, especially because it's not completely round. Just the shape makes my heart beat faster!
The "ARTSY LEAVES" set completed the idea of my MOONDALA tunnel book. I used those two sets as the foundation for my project and mixed them with older, equally wonderful sets to create the different scenes on the pages.
The book even has lights! On the last page, I incorporated tiny lights hidden below my background, so that this book can also be showcased as a decorative object.
For the background of my book cover I've used the "CRACKED" embossing folder with some black kraft stock and lost shadow distress oxide ink. I've sanded the surface for an even more distressed look. The rust around the hole was created using translucent grit paste and distress oxide ink refillers in different brown and green colors. I combined one of the "FUNKY INSECTS" with the bats from  "MOONLIGHT" - can you spot their adorable extra wings?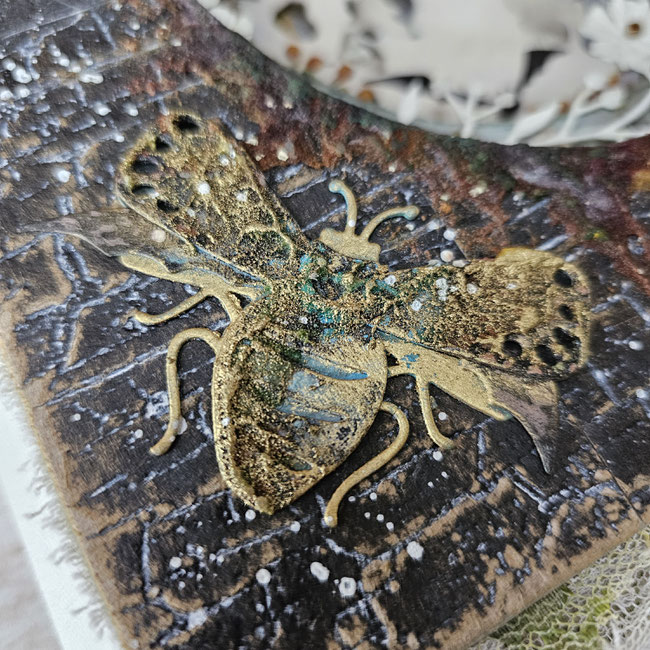 Let's open the book and take a look at the first page. This scene symbolizes the transition from summer to autumn. The leaves are changing their colors from green to brown, cute little mushrooms are sprouting everywhere, and we can stroll through mossy forests.
The base for this whimsical forest moondala I created with the "ARTSY LEAVES" cut out from green and brown kraft stock. The mushrooms come from "FUNKY FOLIAGE" and they are cut out from watercolor cardstock which I've inked with some distress oxide inks in grey and light brown colors. 
On this page you can also see some bats from "MOONLIGHT" tucked behind the leaves - I love how they bring depth to the contrast of this page. 
If you know me, you know I love white shapes - especially made with die cuts. The tiny flowers were made with "SMALL TATTERED FLORALS" and the other white botanicals were made with "HOLIDAY GREENS, MINI".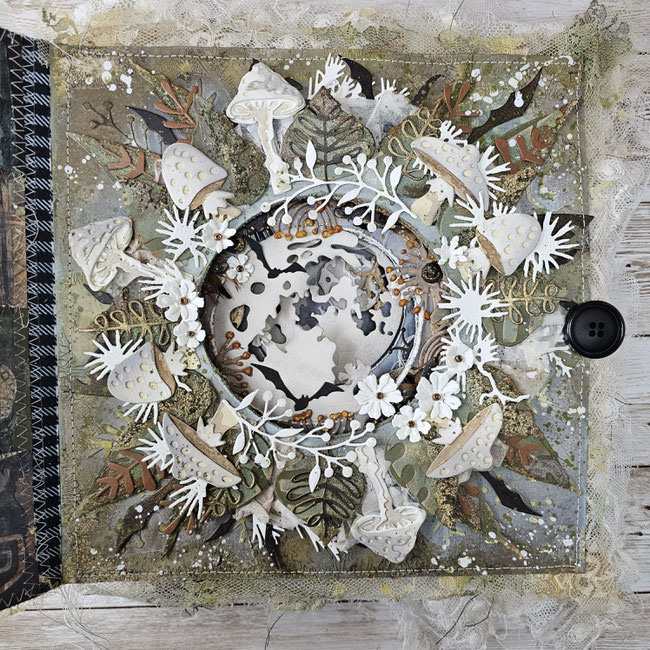 Let's turn to the next page! You can see that it's already much more autumnal here, as the leaves have turned brown and the forest is aglow with all its colors. We also notice that Halloween is approaching, as the little cats are already playing a mischievous game.
The first layer of this moondala was created using "LEAF FRAGMENTS", one of my absolute favorite sets by Sizzix & Tim Holtz. Additionally, there are a couple of "SCRIBBLY BUTTERFLIES", cut in half, to add more intricacy to this mandala. I love how the cut-out details allow you to see through them. That also brings a great connection between the moondala itself and the background.
The layer behind the cats was made with "BLOSSOM" - that's hard to recognize, isn't it? You can see how different a shape can look if you just cut it into several pieces and use it in different spots instead of using it in one piece.
The cats are called "MISCHIEVOUS", I've cut them from black kraft stock, glued several layers on top of each other to make them more sturdy and dimentional, and then distressed the edges with a sanding disk. 
The rusty looking flowers next to the cats I've made with "ARTSY STEMS", I've added some grit paste and oxide ink refiller vintage photo to get this amazing effect.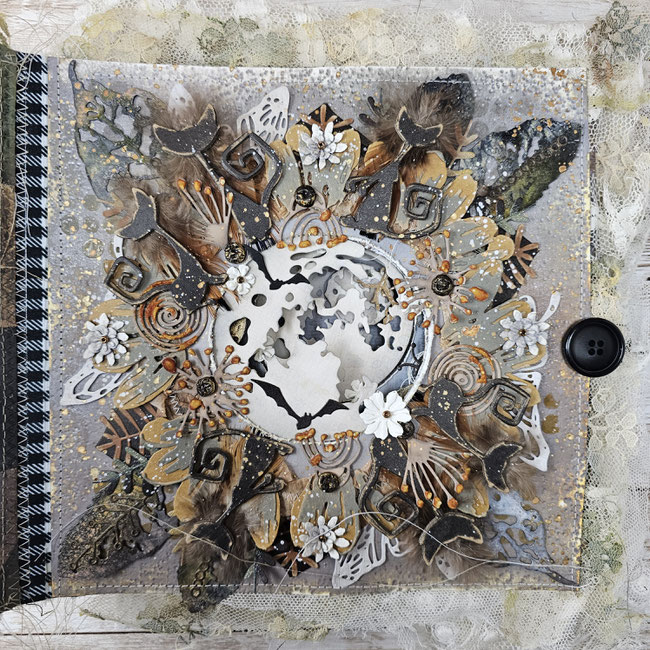 On the following page, we find ourselves in the midst of autumn. Now we can relish cozy afternoons with a cup of tea while the weather does its magic.
Next to the "ARTSY LEAVES" I've used the "FUNKY INSECTS" again. I've used some gilding wax in gold to make them stand out from the brown and black leaves in the background. The white thread underneath their elegant bodies symbolizes the cozyness of this time of the year.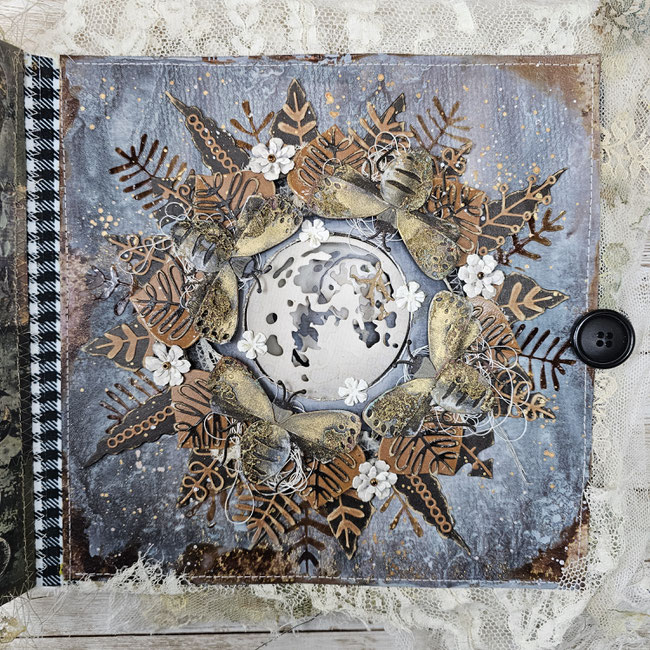 The last page of my moondala tunnel book is a double spread. 
It represents my idea of Halloween. Black birds with bat wings are playing around and telling their stories. But wait, white bats? Well... why not?
The birds were made with the "SILLHOUETTE BIRDS", they are also made out of several layers of black kraft stock, sanded with a sanding disk for creating contrast and a distressed look. 
I've also used a lot of the negative pieces I had left over from cutting. You can see the negatives from "ARTSY LEAVES" with some vellum behind on the bottom of the page.
For every backside page I've cut my left overs into squares, then I've sewn them onto a piece of patterned cardstock and brayered some distress paint over the whole surface to create a harmonious look.