I'm thrilled to share my accordion folio Christmas journal!
I created this using the fantastic idea-ology Christmas 2023 collection by @tim_holtz. It was so much fun experimenting with different ideas and bringing this project to life! This journal combines GRUNGE & GLITTER ... and it has some other fun ideas I am going to reveal with my upcoming posts and videos on youtube!⁠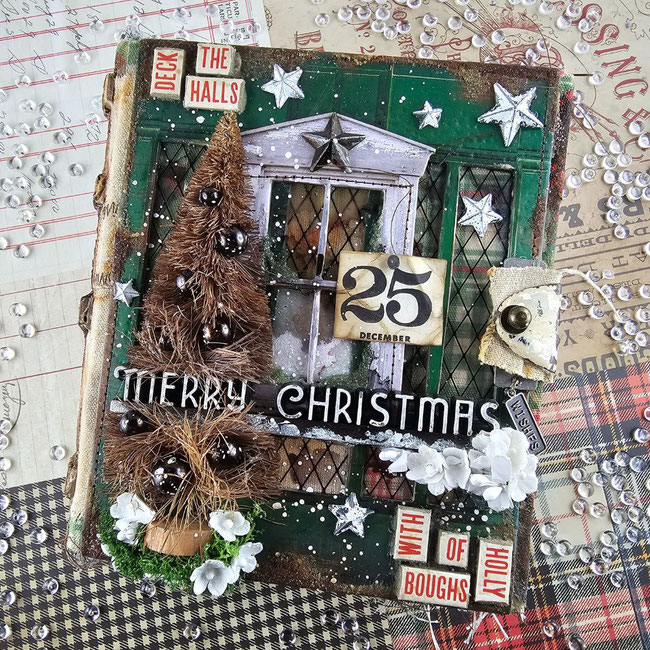 When I saw that green storefront window from the baseboards, I immediately knew that I wanted it to become the cover for my journal! It's such a fun piece to play with, and you can create a whole scene around it, even in a limited space like on a junk journal cover.
For this journal, I wanted to try something I've never done before, and that's combining GRUNGE and GLITTER.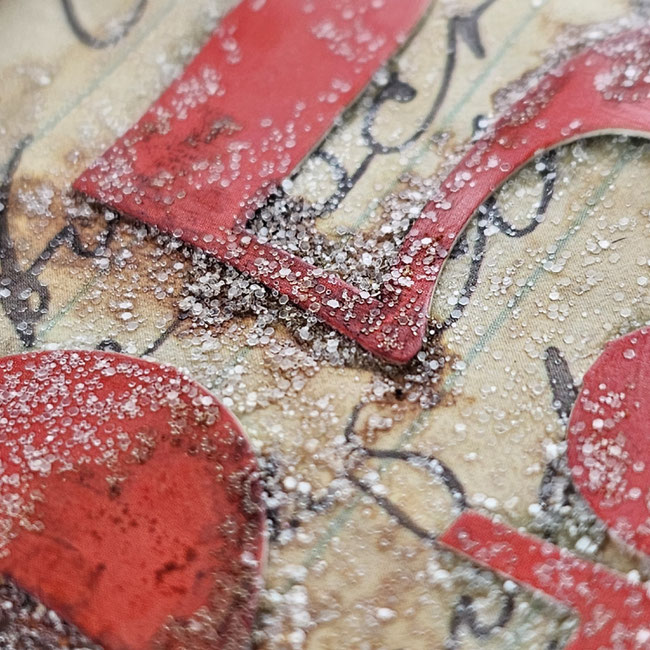 For that effect, I used Ranger's distress GRIT PASTE CRYPT with some distress SPRAY STAIN and distress ROCK CANDY, which is crystal clear glitter.
With these mediums, you can achieve grunge-glitter effects in no time. Simply apply the grit paste crypt first and add the color of spray stain that you like. I used vintage photo for the lighter brown areas and ground espresso for some contrast and darker spots. Afterward, you can adhere the glitter. If it's too glittery for you, just apply more spray stain. This way, you'll still have the gorgeous texture of the rock candy, but it's a bit more matte and sandy.

For my glitter-grunge theme, the other elements on the cover needed to have a grungy look as well. However, I didn't want the journal to appear muddy. So, I chose various brown colors, but I combined them with clean and bright white. This combination has become a new favorite of mine while creating this journal. It gives it an aged and well-used appearance while still feeling festive, fresh, and even snowy.
When I create a junk journal, I like to give it a title. With the new FESTIVE MARQUEES, you get an outstanding title for your journal and, at the same time, a freakin sturdy piece that you can customize with different mediums. I have simply used white acrylic paint to make the letters stand out more from the whimsical surroundings, but you can also use pastes, alcohol inks, crayons, and other mediums on it. It would also be cool to paint the individual letters in different colors for a more playful look.
The Christmas tree had to be brown, of course! I used vintage photo distress SPRAY STAIN and OXIDE SPRAY to color it. As for the BAUBLES, I first colored them with various brown alcohol inks and then added splatters of white acrylic paint.


So, let's open the journal and take a look inside!
The following photos show the individual pages in detail. In addition to my grunge-glitter theme, I experimented with the colors green and red. While it might seem like a normal, traditional choice for Christmas, it was something new for me. I had never used these colors for Christmas projects before.
In my childhood, Christmas was never associated with these colors - I think my parents had a unique taste in Christmas decorations, lol. I discovered the beauty of these colors through working with the idea-ology materials and also thanks to you - my friends and community from overseas. I learn so much from you every single day and especially learning about Christmas traditions in other countries is something truly special. Thanks a lot for sharing that with me!


Wanna take a closer look to the idea-ology collection?
I've made some videos for you showing exactly what you get in every package.
You can find that here!
There will come a flip through of this journal on my youtube channel in November '23.
Videos will be linked here as soon as available.
Wanna know more about my other Tim Holtz makes? 
Check out this playlist on my youtube channel!